2020 Mazda MX-5 Miata Performance | McKinney, TX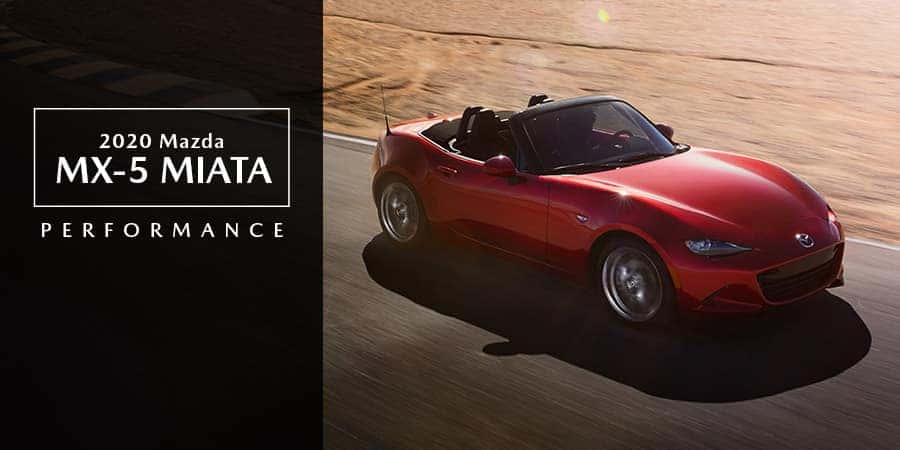 Like the decades of Miata roadsters before it, the all-new 2020 Mazda MX-5 Miata was built with performance in mind. Find out below how the newest iteration of the iconic MX-5 Miata will secure its place in history.
Engine
At the heart of every performance vehicle is a powerful engine, and the 2020 Mazda MX-5 Miata's heartbeat is stronger than ever. The 2020 Mazda MX-5 Miata is powered by a standard 2.0-liter SKYACTIV®-G engine that can produce up to 181 horsepower and 151 lb-ft of torque.
Lightweight
Every Mazda is engineered to be fun to drive, and the 2020 Mazda MX-5 Miata is one of the greatest examples of this philosophy. As has been tradition for over 30 years, the new Mazda MX-5 Miata features a mid-engine configuration and rear-wheel drive that is complemented by a lightweight body. As a result, the 2020 Mazda MX-5 Miata offers you a satisfying balance of power and weight and extremely agile handling.
Transmission Options
The 2020 Mazda MX-5 Miata comes with two unique transmission options depending on what you are looking for in your roadster. For a less-involved approach to driving, an automatic six-speed transmission with paddle shifters is available. If becoming one with the open road is your goal, the SKYACTIV®-MT manual six-speed transmission is likely the right choice for you.
---
Learn more about the technology that powers the 2020 Mazda MX-5 Miata and shop at El Dorado Mazda!