We'll Buy Your Car
If you're looking to sell but not sure if you're ready to buy, we have the perfect opportunity for you! Get a quick online appraisal today to see how much your vehicle is worth.
Take One Step Closer
If you're in the market for a new Mazda, take the first step by applying for financing. We'll work with you and our network of banks to get you in the right loan for the right vehicle.
El Dorado Mazda
McKinney, TX
2150 N. Central Expressway, McKinney, TX 75070
Hours
Sales
Monday - Friday: 9:00 AM - 9:00 PM
Saturday: 9:00 AM - 8:00 PM
Service
Monday - Friday: 7:00 AM - 7:00 PM
Saturday: 8:00 AM - 4:00 PM
Welcome to El Dorado Mazda
CAR BUYING DONE RIGHT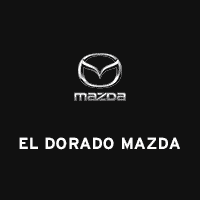 If you're in the market for a new vehicle, you're likely spending hours researching and seeking advice from family and friends to narrow down your top choices. Once you've identified your ideal car models, it's time to head to the dealership for a test drive. However, many car dealerships have a reputation for pressuring customers with hard sales, egos, and games, which can detract from the fun of the shopping experience. This can leave you feeling worn out and frazzled, especially if you have several dealerships to visit.
At our Mazda dealership, we understand that purchasing a new or used car is a big decision and that you deserve a stress-free and enjoyable shopping experience. We pride ourselves on providing a different kind of car-buying experience, one that's focused on your needs and preferences. When you visit us, you'll find a friendly and knowledgeable team ready to help you find the perfect car for your lifestyle and budget. We'll take the time to answer your questions and guide you through the process without any pressure or gimmicks.
When it comes to pricing, we believe in transparency and honesty. You'll know exactly what you're paying for, including any incentives, rebates, or discounts that may apply. There are no surprise charges or hidden fees in the fine print. The goal of our finance team is to make sure you feel confident and comfortable with your purchase, knowing that you got a fair deal.
So if you're looking for a different kind of car-buying experience, visit us today. We're committed to providing you with the best possible service and helping you find the car of your dreams. After all, it's your time, your vehicle, and your needs that matter most.
El Dorado Mazda Testimonials
A sincere THANK YOU to all our favorite customers!
The service department at El Dorado Mazda was great. They got me in quickly and even got the software update I needed done in an hour. Very pleased with there work and speed of service. My service advisor William did a professional job telling me the status of the car while I waited.
I consistently receive top notch, personalized service with El Dorado Mazda
This is a great dealership. We got a good, friendly vibe from all the folks working here. They also have a good sales philosophy and treat people with kindness and respect in my experience. And most importantly, we're very happy with the deal we got on our new Mazda3. Thanks to Hassan, who proactive but not pushy, I was able to secure this car, which is a bit tough to get in the current market. He knew I wanted one and kept tabs on a shipment coming for me. Hassan was patient with all of our questions and concerns, and is very knowledgeable about these vehicles. We finalized the paperwork and finances with Brandon and like Hassan, he was kind, professional, patient, knowledgeable, and not pushy. Of course, always do your homework so you know the exact breakdown of costs of each individual line item going into a car deal. But I'm very happy it wasn't a struggle at all to negotiate a decent price, nor was there any obfuscation of fees or costs going into finance. Hassan and Brandon were great guys to work with. We left feeling perfectly at peace and knew exactly what we paid for. It was a simple process with these guys. This is a solid dealership in my estimation, and I'd highly recommend it if you're in the market for a Mazda.
Mark Jones is the best salesperson I have ever worked with. This is my 5th car to buy from him. If you want to work with a pro, ask for Mark
Simply put… great price, great sales rep, quick process. Overall great experience due solely to our sales rep Brad Fales.
Had a question on a 2015 Mazda CX-5 that was making an engine noise. Called the service department and spoke with Nick. He was extremely knowledgeable, courteous, and professional. He was very helpful and saved me a lot of frustration and money. I would highly recommend this dealership and their service department.
Very friendly service manager; easy and effective check-in and payment process; liked the inspection video; very professional
We needed an oil change, a tire leak located, and general service. All were performed in a timely manner. No surprises, no extra issues. Good detail on the car checkout.
I had a flat tire that needed to be replaced. I called late in the evening and even though the schedule was full, William was able to fit me in the next morning, and there was even a tire special - buy 3, get one for $1! Nothing, but top notch service… I highly recommend!
Chris Sturdy was awesome. Great, great salesman. He let us make the decision on what was best for us. Asked us what we were looking for, pointed us in the right direction, and then let us make the decision. He was ready to help with any questions we had, but did not push anything on us. The whole process of buying our new vehicle was completely stress-free. Brian in finance was also awesome and really helpful. Great dealership.
The staff is super friendly and courteous. We did spend quite a bit time there yesterday however it was a good experience overall.
I love my Mazda 3 and I love El Dorado Mazda! Anytime I have had to take my car in for anything they were prompt to take care of me and my Mazda. From my Window tint needing to be replaced to my Rims needing to be repaired, which was the most recent visit. I was in a loaner vehicle for a month, which was not an issue at all, because I knew they were taking care of my car in the process. I was updated as to what was going on the whole time. I would also like to give extra kudos to Chris and Nick for acknowledging my value as a long time consumer of Mazda and taking their time to assist me with getting my Mazda back on the road this Time, and Everytime!
Smooth transaction. Mr. Tyrone from sales did a marvelous job and also to the other team member in sales and finance.
My wife and I had a great experience test driving and buying a new CX-5. It was easy to find the cars we were interested in on the website and I was contacted promptly after submitting an inquiry. Kamdon Nichols was fantastic; good communication and followup, excellent customer service, and never pushy. We love our new Mazda and would definitely shop here again.
I really needed to get another car, and wasn't sure that I could make it happen with everything that had happened this year. I was really beginning to give up until I met Dylan and his team here at Eldorado Chevrolet in Mckinney. Dylan Stanfield took time to listen to what I really needed in my next vehicle. One that was not only reliable, but also affordable, and that could work within my budget. Dylan's attention to detail showed how he went more than just "above and beyond". This was an amazing car buying experience! Words can not express how truly thankful I am. Dylan and his team were exceptional and made me feel like more than just a customer.
I've been to many different dealerships for service over the years and I must say that the culture of El Dorado Mazda is one of the friendliest and welcoming of them all. From the initial phone call to make an appointment all the way through the inspection and followup process. Both Chris and Kari were friendly and supportive. Even smiley Sam the shuttle driver was great. Just sayin, these folks stand above the rest!
Smooth transaction. Mr. Tyrone was not forcing me to buy but rather gave me better offer.
If you're local, look no further than El Dorado: their customer service and attentiveness makes it feel like I'm a VIP guest with high priority for all my questions and concerns. After an absolutely crazy day, through ups and downs, I had the pleasure to meet Mr. Mazda himself and drive away from Mckinney, Texas in my new CX-30, satisfied completely. Stephen, Dylan, and Brian made the whole process as smooth as can be. Never felt like I was getting my ear talked off and everything was easy to understand. My two hour drive from South Dallas was worth it. Can't recommend enough.
Service dept at El Dorado Mazda is first-rate, efficient, and friendly. My car is always returned to me clean inside and out, and the work required is always done right. They also have a comfortable waiting area, providing water and snacks.
I recently purchased a certifier pre-owned Mazda CX-9 from El Dorado Mazda in McKinney. The customer experience was impeccable and surprisingly enjoyable. The Sales Consultant, Brad Falles and Sales Manager, Carlos Lopez went above and beyond by providing me multiple options over the phone along with detailed videos of the vehicle. Everything we discussed over the phone prior to me driving 2-hrs from home was spot on without the typical trickery of most car dealerships. The Finance Manager, Brandon Young made me feel extremely comfortable and answered all my questions with detailed responses. The professionalism of the team, sales and financing, was very impressive. Even though I don't live in Dallas area, El Dorado has my business now and in the foreseeable future! Thanks again for a great car buying experience!
-Friendly and professional staff.-Found creative financing. -Test drove and purchased a vehicle in one day. I recommend this dealer.
I am on cloud nine! I purchased a 2024 Mazda CX-90 and I have never been this pleased with a Vehicle in my whole life. Five Star ratings on Safety and everything you could want is on this Vehicle. The service at El Dorado Mazda was impeccable. They were so understanding and on top of their game. The whole experience at this dealership was the best I have ever worked with. I totally recommend this Vehicle and dealership to anyone wanting to purchase a new Vehicle. I promise you will not be disappointed! Rita Smith
We found El Dorado after getting not so great support from our local Mazda dealer when trying to order a new car. We were looking for a very specific vehicle, and happened to find one that was showing in transit to El Dorado. I called the dealer and Wayne Ross let me know that the exact car we were looking for had just came off the truck. We drove 10 hours down from NE Mississippi to purchase the vehicle, and we were so impressed with the deal we got we bought a second car from them while we were there. Wayne and the sales team bent over backwards to make sure we got an awesome deal on our trade, sales price and all the incentives available. Haytham Awadi made the final buying process painless, and even worked our out of state registration for us! All and all, very happy with the experience and vehicles we purchased. Thank you for getting us into our fourth and fifth new Mazda!