2020 Mazda3 Sedan vs. 2020 Honda Civic Sedan | McKinney, TX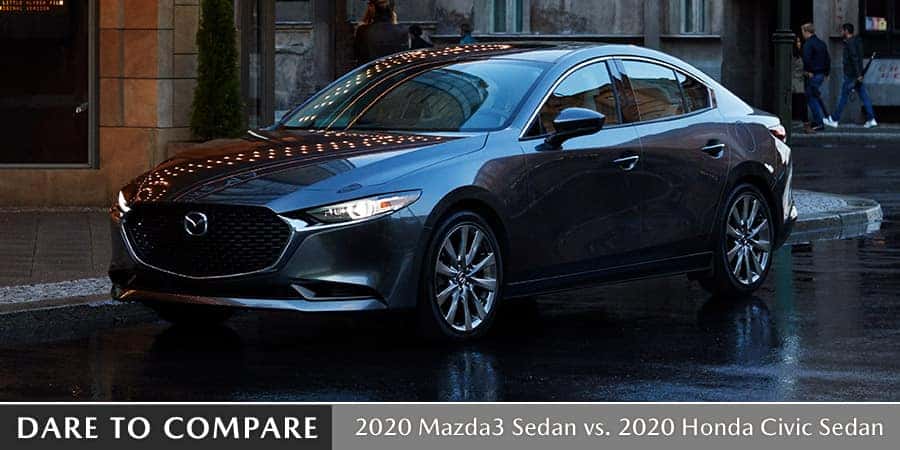 The 2020 Honda Civic Sedan and the 2020 Mazda3 Sedan are two well-built compact cars, both with a lot to offer. However, one of these competitors stands out in many ways, from performance to design. Read on to see why the 2020 Mazda3 Sedan is the better choice.
Capability
The standard 2.5-liter engine in the Mazda3 offers more power than either of the two options from the Honda Civic. The Civic delvers up to 174 horsepower with its available turbocharged engine, but every trim of the Mazda3 boasts 186 horsepower.
The Mazda3 is also the only one of these competitors to offer available all-wheel drive, a feature that's uncommon for the class.
Design
Neither model is hard to look at, but the Mazda3 definitely makes a bigger impression than the Civic. The Mazda name carries a sense of prestige that's justified by its posh design and fine materials. Experienced craftsmen built a cockpit filled with space and contemporary details, like unique analog gauges in lieu of the digital cluster that you'll find in the Honda Civic.
Infotainment
While both of these compact cars come with contemporary technology that includes infotainment the Mazda3 offers a better setup than the Honda Civic. The latter has a relatively small touch screen — just 5 inches — compared to the 8.8-inch screen that comes in the Mazda3.
---
The 2020 Mazda3 Sedan is available now at El Dorado Mazda. Shop online and contact us for additional information!